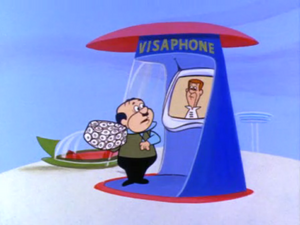 A Visaphone is a video phone booth that Mr. Spacely used to apologize to George about the pineapple cake incident and told George to bring back Rosey the robot.
Appearances
The Jetsons episodes:
The film:
Comic stories:
This article is a stub. Can you help The Jetsons Wiki by explaining it?
In the Real World
The Visaphone is probably based on the Video Phone used at the 1964 World's Fair in New York.
Gallery