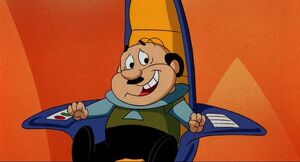 Cosmo Spacely is a character in the animated series The Jetsons.  In the series, he was voiced by the late Mel Blanc.  Frank Welker voiced a teenage version of Mr. Spacely in A Jetson Christmas Carol and Jeff Bergman voiced Spacely in some scenes in Jetsons: The Movie after Blanc's death during production.
About Cosmo
Description
Mr. Spacely is a short man wearing a moss green shirt with a blue tie and black slip-on pants. He has three hairs over his head to cover his bald spot, and has a toothbrush mustache.
Personality
Due to Mr. Spacely's short stature, he is very aggressive toward George and makes excuses to interfere with his personal life. In addition to making George's life more stressful, Spacely would frequently fire him for small misdoings.
Trivia
A running gag in the series with Mr. Spacely is that he would threaten to (or actually) fire George whenever things don't go his way.
There is some dispute involving his middle initial.
Gallery