Jurassic World: Dominion Dominates Fandom Wikis - The Loop
Play Sound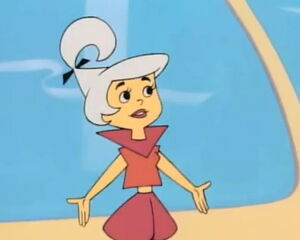 Judith "Judy" Angela Jetson is a character in The Jetsons. She was voiced by Janet Waldo. In Jetsons: The Movie, she was voiced by Tiffany.
About Judy
Judy is the daughter of George and Jane Jetson. She is a typical teenage girl. She is obsessed with boys, rock stars, and clothes, and loves to hang out with her friends from Orbit High School. Judy can usually be found goggling at posters and listening to the radio in her room, but she does make time to encourage her little brother's inventions and help her mom shopping. Like normal teenage girls, she enjoys seemingly never-ending conversations on the telephone and shopping for futuristic outfits. She enjoys the many gadgets at her grasp, like controllable zero-gravity switches made for accomplishing popular dance moves. She also gives a summary of how her day went including her problems to a floating robotic diary, appropriately named "DiDi".
Judy is also very fond of a futuristic rock singer named Jet Screamer. George at first despised him until Judy won a date with the heartthrob singer in a song-writing contest. Judy won when George replaced her original song with her younger brother Elroy's secret code. George came along to try to stop the date but failed and wound up as the drummer for the song and soon took a liking to Jet Screamer and his music.
Age
Judy's age is not explicitly stated in the show. However, Jane says, "If I was only fifteen again," as Judy leaves the house, implying that Judy is fifteen now.[1]
Description
Judy is a teenage Caucasian female with platinum blonde hair tied up in a ponytail held upward above her head. She usually wears a long red skirt with ruffle, a pink sleeveless crop shirt, and matching pink leggings, but wears different outfits in Rockin' with Judy Jetson and The Jetsons Meet the Flintstones.
Trivia
Favorite Pastime: Swooning after boys
Her zodiac sign is Libra
In the LG commercial she is married to Jet Screamer and has a baby boy with him.
Her license is 17819B
Dates and Boyfriends
Judy dated at least thirty boyfriends.
Gallery
References

((-}}