Line 1:
Line 1:
 
⚫
−

{{Template:Place

 
 
+

'''Fly-in Movies''' are a location in ''[[The Jetsons]]''.

⚫
 
 
+
⚫
 
 
⚫
−

|Caption =

 
 
+

Similar to an old-fashioned drive-in, patrons park their flying vehicles in front of the big screens to watch films.

−

|Series =

 
 
+
⚫
 
 
+

[[Judy Jetson|Judy]] and her date once made plans to go there.<ref>[[The Jetsons (Gold Key) 3#Lonely for Her One and Only]]</ref>

−

|First Appearance =

 
 
+
−

|Last Appearance =

 
 
+

== Appearances ==

−

|Location =

 
 
+

The feature film:

−

|Inhabitants =

 
 
⚫
−

}}

 
 
+
 
+

== References ==

 
+

<references/>

 
+
 
 
 

{{stub}}

 

{{stub}}
---
Revision as of 18:52, 12 May 2018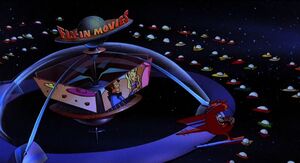 Fly-in Movies are a location in The Jetsons.
About Fly-in Movies
Similar to an old-fashioned drive-in, patrons park their flying vehicles in front of the big screens to watch films.
Judy and her date once made plans to go there.[1]
Appearances
The feature film:
References

This article is a stub. Can you help The Jetsons Wiki by explaining it?