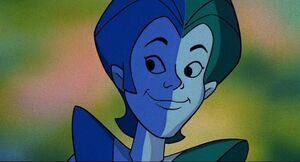 Apollo Blue is a character in Jetsons: The Movie. He was voiced by Paul Kreppel.
About Apollo
He is a boy Judy Jetson meets in the nature zone at the mall of the Intergalactic Garden Estates. He's a humanoid alien whose right side is blue while his left side is green.
He and Judy literally crashed into each other but she had to run off for George's opening day. They met again the next day and performed a musical number using the holographic nature zone. Apollo is a musician, just like Judy's last boyfriend and wrote a song called "You and Me". He took her out to the drive-in movie and they almost kissed before Jane interrupted them looking for Elroy. Apollo went with Judy to find Elroy and helped the group in standing up to Mr. Spacely. As the Jetsons were about to leave he gave Judy a recording demo of his song and promised to visit.
Appearances
Gallery